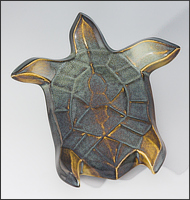 Flying Sea Turtle
This work is the third in my series of sea turtles. I didn't really plan on making a third one, but I had one of those great moments of serendipity in the studio- and here he is!

These pieces were inspired by seeing the gentle giant green sea turtles, while surfing many winters at Hanalei Bay in Kauai. I always looked forward to seeing them, and it was always a good luck sign. That's because when the turtles were there, we always knew that there were no Tiger sharks close by in the water. (Sea turtles are their favorite food.)

The Flying Turtle connects you with nature. You really want to hold this piece. He gives a gentle feeling of freedom, grace and movement like he would if you saw him swimming near you in the ocean. He's swimming, but he gives you almost that feeling of flying in a dream...

The glaze on this piece is another one of my unique glazes, called gold and green.
Flying Sea Turtle Limited Edition Sculpture
Artist's Proof, Size: 8.5" long by 8" wide by 2.25" high (about 21cm x 20cm x 6cm)

The work comes with a signed certificate of authenticity, and is marked in the clay DMH, serial #, dmhstudio.com. The piece can be displayed flat on a table or bookshelf, or on the wall swimming in all different directions. You'll find these turtles look especially nice, when grouped together swimming on your wall.
Flying Sea Turtle in Gold and Green