"Baby Bear"This piece was the third in my series or collection of 5 polar bear sculptures. The cuddly Baby Polar Bear wants to be held in your hands, and then you can't seem to put him down! There is something comforting about feeling the sensual smoothness. It looks like a very simple shape, but there is actually tremendous detail, subtlety, and energy in the form.
Solid-core stoneware ceramic, glazed in Carrara White
Size: 4.4" long by 2.9" wide by 2.25" high (about 11cm x 7cm x 6.5cm) Weight: .75 lbs
Limited Edition Sculpture. Each piece comes with a signed certificate of authenticity.
Hand signed "DMH 08", stamped "DMH" in the clay.
Click here to see pictures of the world's cutest baby polar bear...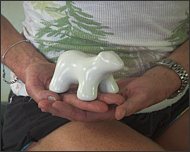 Baby Polar Bear sculpture in Carrara White