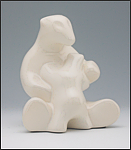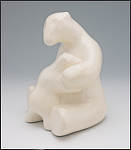 "Mother and Child Polar Bear " This piece is the fourth in my series of 5 polar bear sculptures.
It's about the special timeless love between a mother and her child...

The Mother and Child Polar Bear is something that you really want to touch and hold in your hands. The smoothness of the form is comforting, and touching this sensual shape puts you in contact with my hands: you feel all the hours of hand shaping, sanding, smoothing, and polishing that went into making the work.
This piece is the most popular of all my polar bears. It makes a great gift for your mom, or a wonderful way to remember her. Or guys, if you really want to be a guaranteed hero with your wife or special love, give her the Mother and Child for her Birthday, Mothers Day, or Christmas.
Limited Edition Sculpture. Solid-core stoneware ceramic, glazed in Carrara White.
Hand signed "DMH 08", stamped "DMH" in the clay.
Each piece comes with a signed certificate of authenticity.
Size: 6.75" tall by 6" wide by 5.5" deep (about 17cm x 15.25cm x 14cm) Weight: 5lbs

Click here to see the Mother and Child Polar Bear sculpture in Diamond Black.